La Mangrove is more than a tipi accommodation and river lounge. It's the culmination of our personal journey. We, Maud (Dutch-German) and Thibault (French), started our adventure together nine years ago in Goa, where we fell in love with crazy and beautiful India, Goa and each other.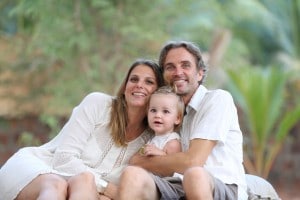 Thibault, a music lover with green fingers, started travelling the world from an early age. His interest in the world inspired him to study geography and ecology in Paris and Pondicherry (India) before he got an ideal globe-trotting job in TV production and events. He finally decided to pursue his dream and to connect his knowledge with his passion: to realize a sustainable place in magic Goa.
Maud studied international business communication and worked in the creative advertising industry in Amsterdam and Paris. She loves travelling to discover foreign cultures and as a consequence is multi-lingual. She relaxes by keeping up in fashion, photography, magazines and decoration, which is handy as this will all provide inspiration for La Mangrove and the shop.
La Mangrove is the result of our combined spirits and passions: a stylish and friendly place. It's the place we have been looking for ourselves since we started to travel in India. We will be more than happy to welcome you, make you feel at home, share our personal tips and experiences and provide you with all the information and service you need.
La Mangrove is a place where you can truly be yourself. We welcome people from all ages, backgrounds and nationalities; from yoga lovers to party people, via lounge lizards to lazy loungers, you're all feel at home here.
Keywords :
La Mangrove tipi chic tipis chics fancy teepee teepees tepee tepees boutique hotel lounge river garden eco retreat place luxury ecochic ecoconscious natural luxury sustainability cool restaurant sustainable fairtrade organic food boho bohemian drinks hippy hippie hippychic hippiechic bohochic bohohippie gipsy gipsychic bobo bobochic gypset gypsetravel gypsettravel gypsetliving tent tents glamping vagabond vagabonds birdwatching birdwatcher stargazer stargazing bien-être ecological ecologic water zen fengshui vastu style stylish clean modern minimalist minimalistic design designed contemporary wood bohostyle gaia gaïa nature love peace lovely peaceful quiet bird birds chill chillout Ibiza element elements dream dreams India Asia Southgoa South Goa Canacona Agonda Palolem Patnem Cola Kola Canacona Galgibag Galgibaga Talpona travel traveller ecotravel spiritual freespirit goodvibes naturalluxury livinglife naturelovers naturelover wild jungle livingstyle luxurylife naturallife rural rustic resort pure relax relaxing chill chilled wellbeing wellness beauty happiness life nice charming romantic retreat couple responsible fairtrade ecoretreat sustainbletravel responsibletravel enviromentalism ecofriendly ethical conservation ecoresort unique exclusive lodge ecolodge friends music friendly French Indian Tibetan Asian Thai yoga meditation ashtanga iyengar hatha body soul spirit traveller